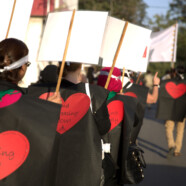 On 9th February 2016 more than 90 enthusiastic participants from diverse backgrounds – including our Afghan and German friends from 'Medical Modiale' – gathered for the 'Interactive Preparatory Workshop for the One Billion Rising fest on 14th February 2016'.
Olakh in association with Navrachna University, Medical Mondiale, Action Aid and Foram Foundation organized the workshop in order to introduce the participants to the issue of Sexual Violence on Public Places as well as the global One Billion Rising campaign.
A highlight of the workshop was the mutual exchange of concerns, experiences and ideas. It underlined the striking need to take action against Sexual Violence on Public Places.
The workshop's outcome was that often we are silent and ignorant of the everyday occurrence of sexual violence.
In a trustful atmosphere many participants came forward to share personal experiences such as:
"While I was travelling in a Volvo bus an older man was purposely putting his hand in such a way that it was touching me."
"While travelling in rickshaws, I have seen male travellers touching unknown girls in unpleasant ways."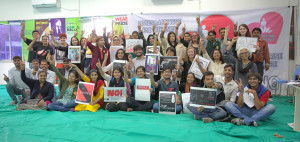 "I have seen a girl being kidnapped by boys in a shopping street. The girl was screaming for help but no one paid attention."
"I was followed by two men and they were trying to touch me. "
On V-Day, 14th February 2016, more than 70 young boys and girls from diverse backgrounds came together to end Sexual Violence on Public Places!
In collaboration with Navrachna University, Foram Foundation, ActionAid, Medica Mondiale Afghanistan and Germany and MSU, we celebrated mutual love and respect so that everyone can move freely and fearlessly no matter where, when or how! Our event started with a Flashmob, moving from MSU Boys' Hostel to Saffron Circle. The performance was followed by a street play on the issue of  Sexual Violence on Public Places, which was written and rehearsed by students from MS University.
The overwhelming spirit of the participants reached the bystanders and has definitely put a spark in their minds towards the issue of Sexual Violence on Public Places.