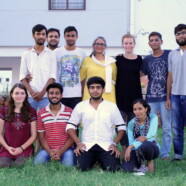 On 29th and 30th April 2016 we at Olakh organized a Gender Training for our long-time and new volunteers!
The confidential, non-judgemental and warm environment gave all of us the opportunity to share our thoughts, experiences and perceptions.
Together we learnt about the difference between "sex" and "gender" and started to question our own behavior and attitude.
All of us felt inspired by the enthusiasm, passion and power that lies within us and are eager to champion gender equality in our personal and professional life!