This year's International Women's Day more than 800 young hearts and minds from Vadodara and across Gujarat came together to rise for an equal and just society!
In solidarity with the global One Billion Rising campaign, Olakh along with 18 youth groups organised "संवाद – स्व से समस्त " on 8th March 2016 to create a platform for youths to partake in the life experiences of revolutionaries and to motivate them to walk the passionate path of active engagement for social reform.
This first-of-its-kind event in Vadodara featured pioneers of the women's movement in India, Kamla Bhasin (gender-equality activist, co-founder of Jagori and OBR South-Asia Coordinator) and Elaben Bhatt (Ghandian practitioner of non-violence and self-reliance and founder of the more than one million strong SEWA in India).
"I'm delighted that today we have about 50-50 women and men. It means men are beginning to realise that without women there is no freedom for everyone."
– Kamla Bhasin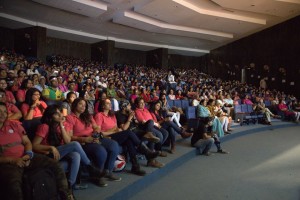 With her unique humor and spirit, Kamla Bhasin captivated the audience, made us laugh and sowed seeds of change in the participants' minds. The listeners were enthralled by her speech and rewarded it with standing ovations and enthusiastic feedback.
"In my mind the definition of marriage and the way of living my life have totally changed." – Participant
Due to personal circumstances Elaben Bhatt had to cancel her visit but we were happy to welcome a respectable representation on stage. Manali Shah from SEWA recounted passages of Elaben Bhatt's encouraging life story and the journey of the Self-Employed Women's Association.
Moreover, Olakh felicitated local youth groups who have united with an unwavering passion and persistence to make a difference. Sarika Mehta and her Biking Queens from Surat, Sauhard – Youth Initiative for Peace from Ahmadabad and Olakh Youth Initiative for Equality from Vadodara presented their work in the most creative ways – by dancing, playing a skit or showing pictures and videos.
"Let us all paint the world with colors of equality, justice and freedom!"
– Priyal from Olakh Youth Initiative for Equality
We had the honor to welcome Shubhangini Devi Gaekwad (Rajmata of Vadodara and MS University Chancellor) and Avantika Singh (Collector, Vadodara) as our Chief Guests who addressed the audience in personal and honest speeches on becoming and being successful women in today's patriarchal society.
The Chief Guests and the other speakers unveiled the Gujarati Translation of the book 'Masculinity' by Kamla Bhasin, another highlight of the day. If you would like to pre-order the book, feel free to contact us (+91 265 2486487, +91 246 6037).
All the inspiring people, unique stories and extraordinary performances will stay in our minds for a long time!